School Supplies Save Lives
Each summer we give kids and youth of low-income families the opportunity to receive school supplies before the start of the new school year. Join us for this year's Back to School Fair on August 22nd.
A Need to Change
In the past several years, child poverty rates in the Lower Mainland have increased from 7.3% to 48%.
For families with children in school, back-to-school bills can be in the hundreds. "We end up with two-tiered education [between] those who can pay and those who can't," said Adrienne Montani, a coordinator of First Call: BC Child and Youth Advocacy Coalition.
Each summer, The Salvation Army Boundless Vancouver gives kids and youth of low-income families the opportunity to receive school supplies before the start of the new school year. In the past, most school supplies have been donated, and most of the backpacks have been purchased by The Salvation Army. A staggering 800 backpacks would be filled with donated school supplies and given to the children and youth. However, this year, it will be drastically different.
The Event
On August 22. 2019, from 2 PM – 6 PM, Glad Tidings will be hosting Boundless Vancouver's: Back-to-School Fair. The church's gym will be filled with local organizations' booths, fantastic food, and of course, a bouncy castle. Children and youth, with their families, will be given a passport where they collect stamps for each booth they visit. They will eventually be led to the School Supply "Store" where they will then be able to pick out a backpack and school supplies of their liking for the specific grade requirements.
Our Incredible Partners
YNOTFORTOTS, a brand new partnership with Boundless Vancouver, is the Back to School Fair's Primary Partner. Mohit Sodhi and his expert team will be co-fundraisers for the event, as well as our primary donor.
The Donnelly Group, one of The Salvation Army's most enduring community partners is, yet again, extending their generosity – providing all the food for the event.
Glad Tidings Church, located at 3456 Fraser St in Vancouver is one of the Salvation Army Boundless Vancouver's most dedicated partners. Like at Christmas-time, Glad Tidings generously lends their space which allows for dazzling Toy-shops and delicious Easter Lunches.
Striving for Change
This Back-to-School Fair has never been done before. With each opportunity, The Salvation Army Boundless Vancouver strives to foster community and integrate holistic values.
In the past, the start of the school year has been daunting for low-income households, "…creating a sense immediately of social exclusion…" But this year, children can prepare for school while celebrating in friendship and community. Boundless Vancouver is ecstatic to present an experience that will be edifying for all. 
If you'd like to participate in the event by volunteering, donating backpacks/school supplies, or hosting a community partner's booth, please email [email protected] 
Media Kit:
Please feel free to use our promotional material as needed. You can view, download and print the following: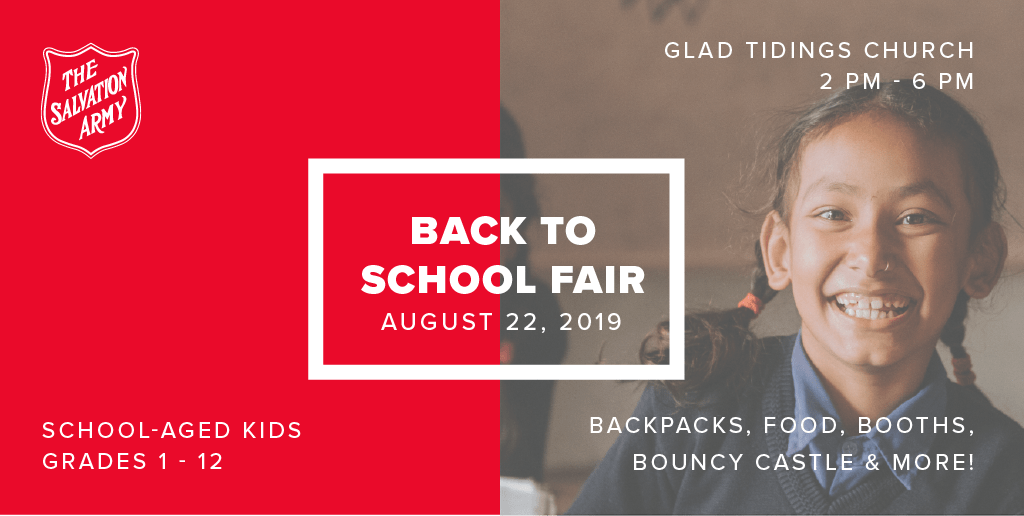 Donate Today:
Have any extra backpacks? Call 604-872-7676.
Donate Locally: Donate at 3213 Fraser St. Volunteer: Contact [email protected]
Where Your Funds Go: More information about the work of The Salvation Army can be found in our Annual Review at https://salvationarmy.ca/annualreview2013-2014/.